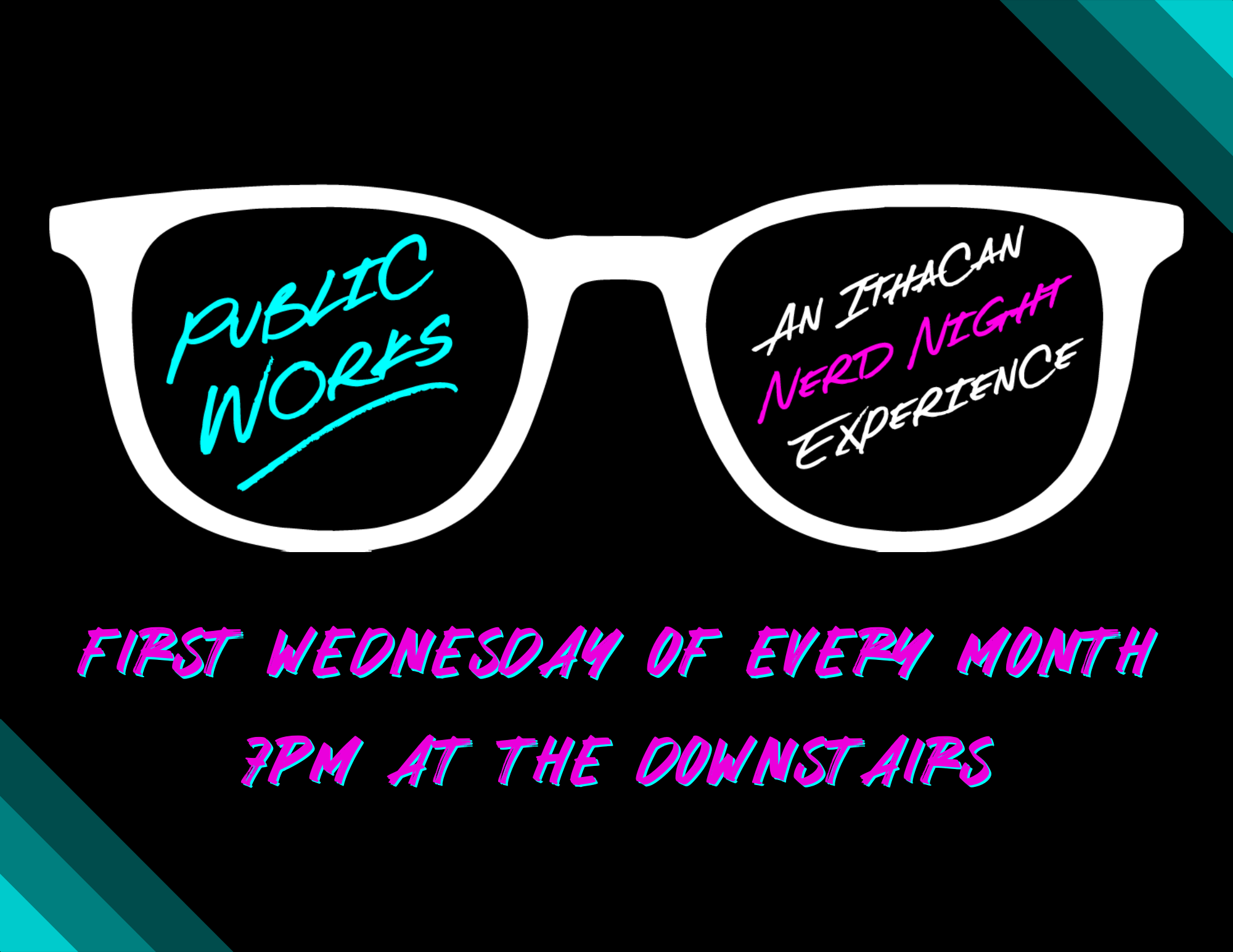 If you're thirsty and have always wanted to know about looking for space microbes on Europa, what medieval people really thought about dragons, how to make energy from alternative sources, or what a philosopher has to say about what the heck is actually going on, come to Public Works! It's a free event in the style of Nerd Night but designed just for Ithaca. We're bringing a variety of intellectually-stimulating presentations right to you for your entertainment and educational pleasure at The Downstairs, the bar below The Watershed. Come hear talks given by Cornell and IC graduate students, professors, community experts, and everything in between! Each session will feature one to three accessible talks, followed by a Q&A session where audience participation is highly encouraged but not required!

Bring a friend, make a friend, ask an expert, and drink a beer!
The December 7th Public Works event will feature 2 talks:

A humanities talk:
"The Inside Story: How Editors Shape Books, Institutions, and World Literature"
by Dr. Ben Fried
Visiting Lecturer in the Department of Literatures in English at Cornell University

This talk will take you to the crossroads of power and creativity. Editors are the invisible gatekeepers of literature, shaping texts and tastes out of public sight. What do they actually do, and how have their actions changed literary history? "The Inside Story" will investigate three remarkable writer-editor relationships and three examples of editorial labor determining the fate of a literary work: one creative, one destructive, and one poised uneasily between the two. We will look at the Nobel laureate V. S. Naipaul getting his start on BBC Radio; the short-story superstar Mavis Gallant falling out with The New Yorker; Penguin India risking it all on Vikram Seth's A Suitable Boy, one of the longest novels ever written, and dominating the subcontinent as a result. And so we will move through the twentieth century—from the Caribbean to North America to South Asia—uncovering the editorial networks linking literary institutions in London and New York to Anglophone authors around the world. Drawing the editor from backstage to center stage, "The Inside Story" will illuminate the influence of this crucial cultural figure, for good and bad, from heyday to present-day decline.

and a science talk:
"Orange is the New Blue – A Guide to Finding Colorful Aliens"
by Dr. Lígia Coelho
Fulbright Scholar in the Department of Astronomy at Cornell University

Biological pigments or "biopigments" are what make life colorful but also resilient to radiation, lack of available liquid water, and harsh temperatures – the typical weather forecast in space! Microbes that live in ice have a pretty hard time with these conditions too, and so, they tend to be very colorful – which makes them very good references for what life may look like in the cosmos! Future telescopes will be able to search for these colorful features, but first we need to translate them from biology into the language of space missions: spectroscopy!

What does the spectral fingerprint of a biopigment look like? How can that help us search for life in the cosmos? And more importantly…can we really have planets covered by orange aliens?!
Time and Location
First Wednesday of every month, 7 PM.
The Downstairs
121 W. State Street
Ithaca, NY
 
Want to sign up for email updates?
Send an email to publicworks-L-request@cornell.edu with the subject line 'join' (without quotes!)
 
Interested in giving a talk?
We want to hear from you! Come talk to us at a Public Works event or send us a message at ithacapublicworks@gmail.com. Are you an academic? Feel free to list your Public Works talk as an outreach event on your CV! Are you not an academic? We still want to hear from you!